Shadow divers : the true adventure of two Americans who risked everything to solve one of the last mysteries of World War II
(Book)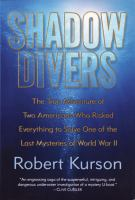 Published:
New York : Random House, c2004.
Physical Desc:
xi, 375 pages, [24] pages of plates ; ill. (some col.), 24 cm.
Status:
25 copies, 1 person is on the wait list.
Essex Adult Nonfiction
940.54 KUR