The catalogue of shipwrecked books : Christopher Columbus, his son, and the quest to build the world's greatesat library
(Book)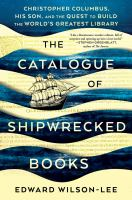 Published:
New York : Scribner, 2019.
Edition:
First Scribner hardcover edition.
Physical Desc:
[xiv], 401 pages, 8 unnumbered pages of plates : illustrations (some color), maps (some color) ; 24 cm.
Status:
13 copies, 1 person is on the wait list.
1 copy on order.
Essex Adult Nonfiction
(NEW) 010.9 WIL